BEng (Hons) Fire Engineering, University of Central Lancashire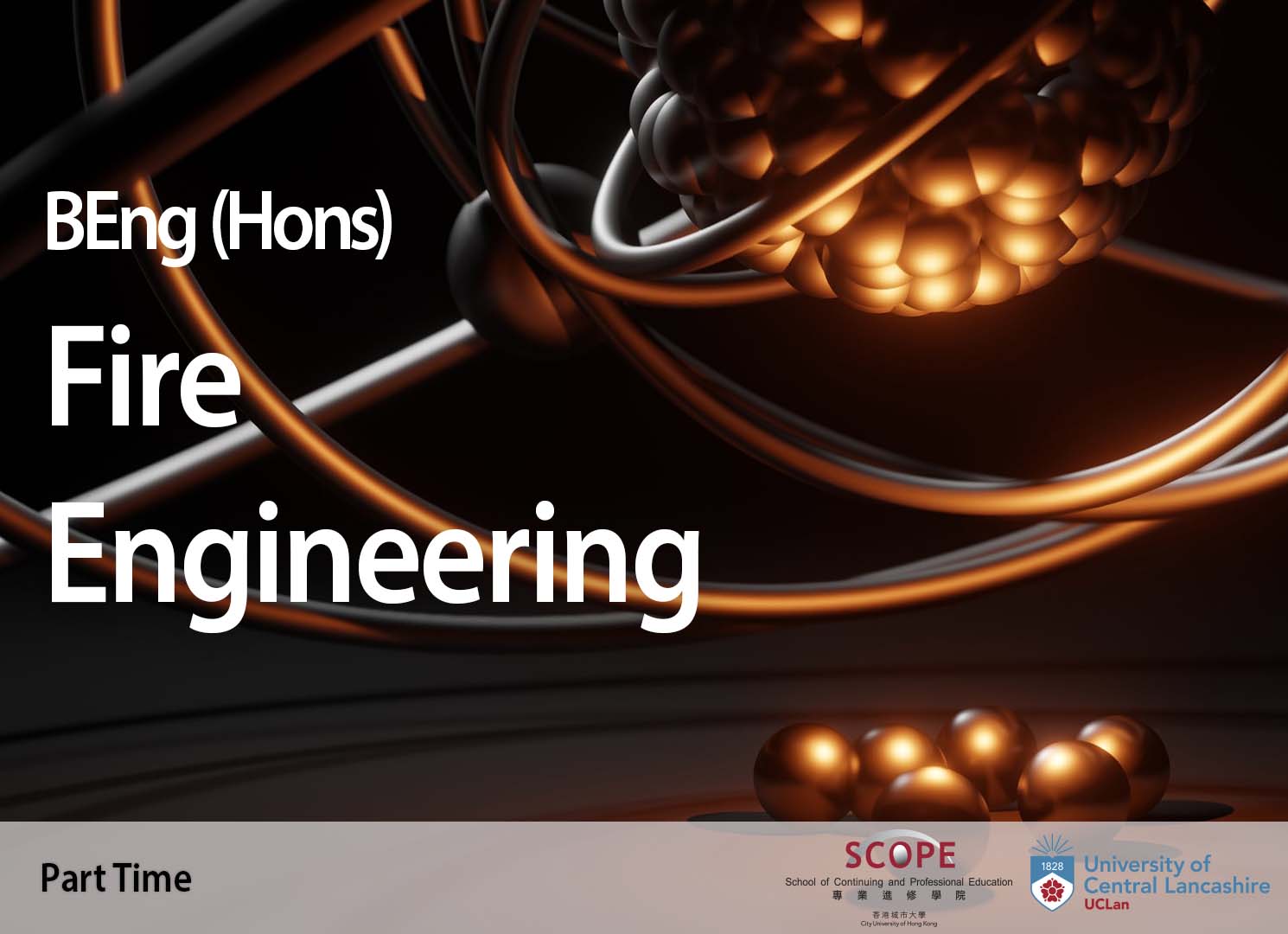 Application, Fee, Loan
Application deadline
All applications will be processed on a rolling and competitive basis until all available places have been filled and, thus, early enrollment from interested parties are highly encouraged. The whole process and selection outcome will be endorsed by the Programme Team and University of Central Lancashire. All decisions will be final.
Enquiries: 3442 5487
Application
Application should be submitted online via www.scope.edu/eapplication .
Application form could also be obtained upon request from the reception counter of CityU SCOPE.
All copies of academic transcripts/ certificates (including the academic qualifications stated on the admission requirement and HKALE/ HKCEE/ HKDSE result) must be submitted at the time of application. Incomplete application will cause a delay in processing.
Applicants will be selected on the basis of academic merits and relevant work experience. All applicants will be informed of the application results. Please contact CityU SCOPE if you do not receive our decision by early August.
Online Enquiries of Application Status
An acknowledgement of your application will be sent to you via email. Enquiries about your application status can be made at our website: www.scope.edu/trackstatus 7 working days after submission of your application.
Programme Commencement
September 2023
Fees
Application Fee

Waived until further notice

Programme Fee*

HK$252,000 for Route 3 (360 credit), payable in 9 instalments
HK$161,000 for Route 2 (230 credit), payable in 6 instalments
HK$126,000 for Route 1 (180 credit), payable in 6 instalments
* Additional fees will be charged in the case of retaking. All fees paid are non-refundable
Important Notes for applying IFE discounts starting from 2023/24
The 5% of IFE discounts are only applicable for non-CEF reimbursable modules (i.e. NOT applicable for CEF reimbursable modules). You can refer to the programme information for the list of CEF reimbursable and non-CEF reimbursable modules of your programme at www.cityu.edu.hk/ce/fire.
Students who wish to apply for 5% discount on the non-CEF reimbursable modules from the first instalment of 2023-2024 have to submit a copy of valid proof of IFE membership to Miss Leung at fire.scope@cityu.edu.hk on or before 23 June 2023. Submission of valid proof of IFE membership during the period of 24 June 2023 to 31 October 2023 will fall into the final round process with discount effective starting from the second instalment of 2023-2024. All submission of valid proof of IFE membership after 31 October 2023 will not be handled.
Education Loan
Successful applicants are eligible to apply for the Extended Non-means-tested Loan Scheme (ENLS) administered by the Student Finance Office (SFO) of the HKSAR Government. The maximum financial assistance under the ENLS is equivalent to the total tuition fees payable of the programme. For details or enquiries, please contact 2150 6223 or visit the Government website www.wfsfaa.gov.hk/sfo/eng/schemes/nlss.htm.
Continuing Education Fund (CEF)*
These courses have been included in the list of reimbursable courses for Continuing Education Fund purposes. The mother programme BEng (Hons) Fire Engineering of these courses is recognised under the Qualifications Framework (QF Level 5).
| | |
| --- | --- |
| Enquiries | 3142 2277 |
| Website | |