BA and BA (Hons) Marketing with Digital Media, Edinburgh Napier University
BA / BA (Hons) Marketing with Digital Media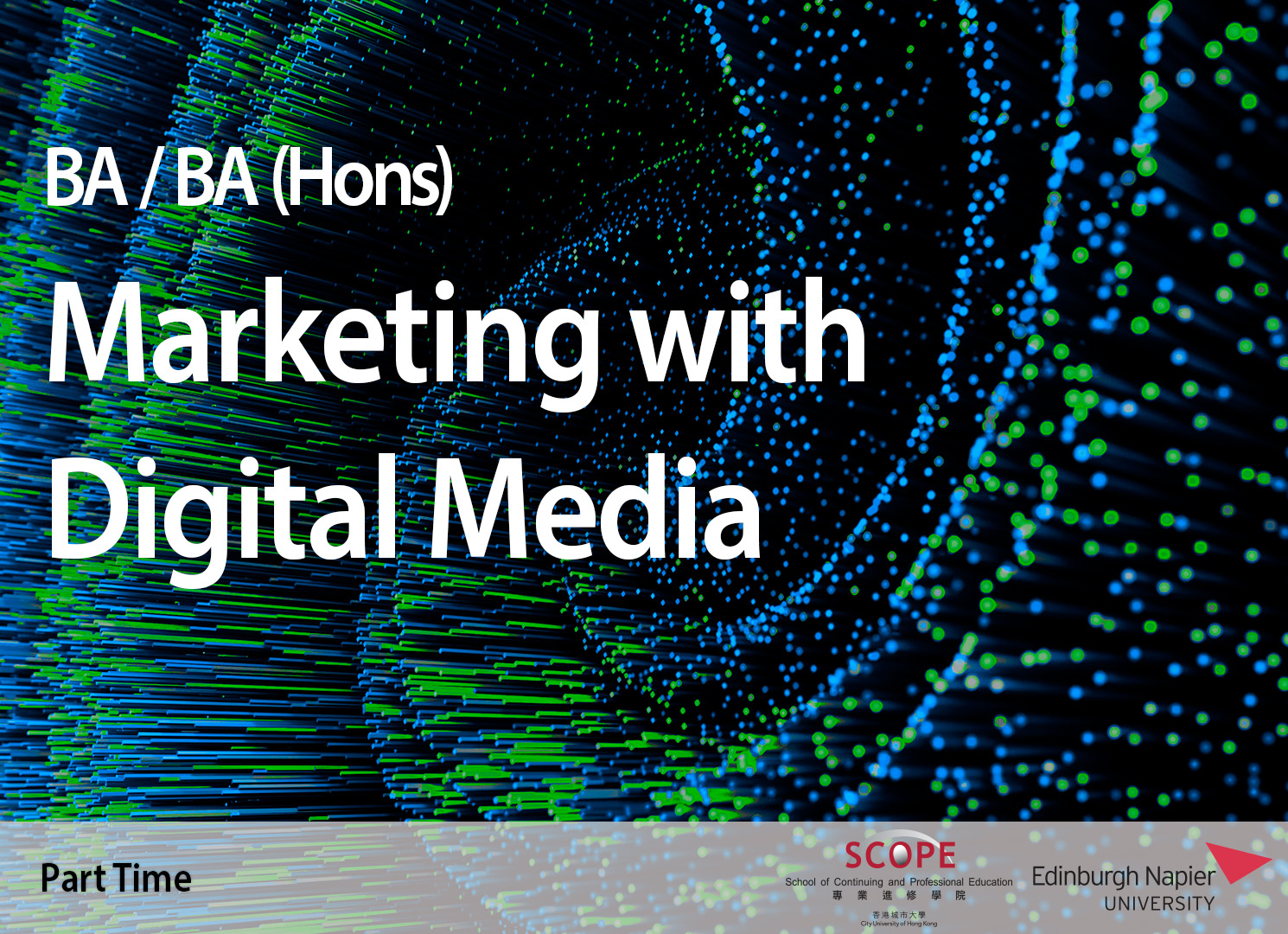 BA and BA (Hons) Marketing with Digital Media, Edinburgh Napier University
Programme Code :

233-29390

Commencement Date :

October 2023

Tuition fee :HK$139,200 [BA (Hons)] /HK$69,600 [BA]

Email :

bm@scope.edu
Admission Requirements*
Holders of Associate Degree (AD) or Higher Diploma (HD) in any business or service related studies with at least one module taken in marketing fundamentals or equivalent qualifications.
* Students from the STEM area and without any study of marketing fundamentals may also be considered. Students will be required to study an additional marketing bridging course (no additional fee will be charged) in the summer. Those applicants should submit their applications before 10 August 2023.
* Students whose qualifications do not quite meet the above requirements but with over two years of marketing or sales experience may be interviewed and considered under the Recognition of Prior Learning for Credit procedures for uncertificated learning. These students will usually be applicants for the part-time programme.
Fees
Application Fee

HK$160 , non-refundable (to be paid at the time of application)

Tuition fee

BA: HK$69,600 (payable in 3 instalments)
BA(Hons): HK$139,200 (payable in 5 instalments)
Notes:
1. All fees paid are non-refundable and non-transferable.
2. In the case of re-assessment and retaking a module, additional fees will be charged.
Application Procedures
Application should be submitted online via www.scope.edu/eapplication.
Application form can also be obtained upon request from the reception counter of CityU SCOPE.
Applications are processed on a rolling basis, early application is encouraged.
Applicants will be selected on the basis of academic merits and relevant work experience. All applicants will be informed of the application results. Please contact CityU SCOPE if you do not receive our decision by late August 2023.
Deadline of Application
Applications will be considered on a rolling-basis, subject to the availability of places. Early applications are, therefore, strongly encouraged.
Application deadline for candidates who have not studied marketing related modules: 10 August 2023
On-line Enquiries of Application Status
An acknowledgment of your application will be sent to you by email. Enquiries on your application status can be also made by visiting our website: http://www.scope.edu/trackstatus seven days after submission of your application.
Continuing Education Fund (CEF)
Some modules of the programme have been included in the list of reimbursable courses under the Government's Continuing Education Fund (CEF). For details, please visit the government's website: www.wfsfaa.gov.hk/cef/intro.htm
Extended Non-means-tested Loan Scheme (ENLS)
Students who are not covered under FASP and NLSPS can apply for the government load under the Extended Non-means-tested Load Scheme (ENLS). For details, please visit the government's website: www.wfsfaa.gov.hk/sfo/eng/schemes/nlss.htm.