Advanced Diploma in Business Administration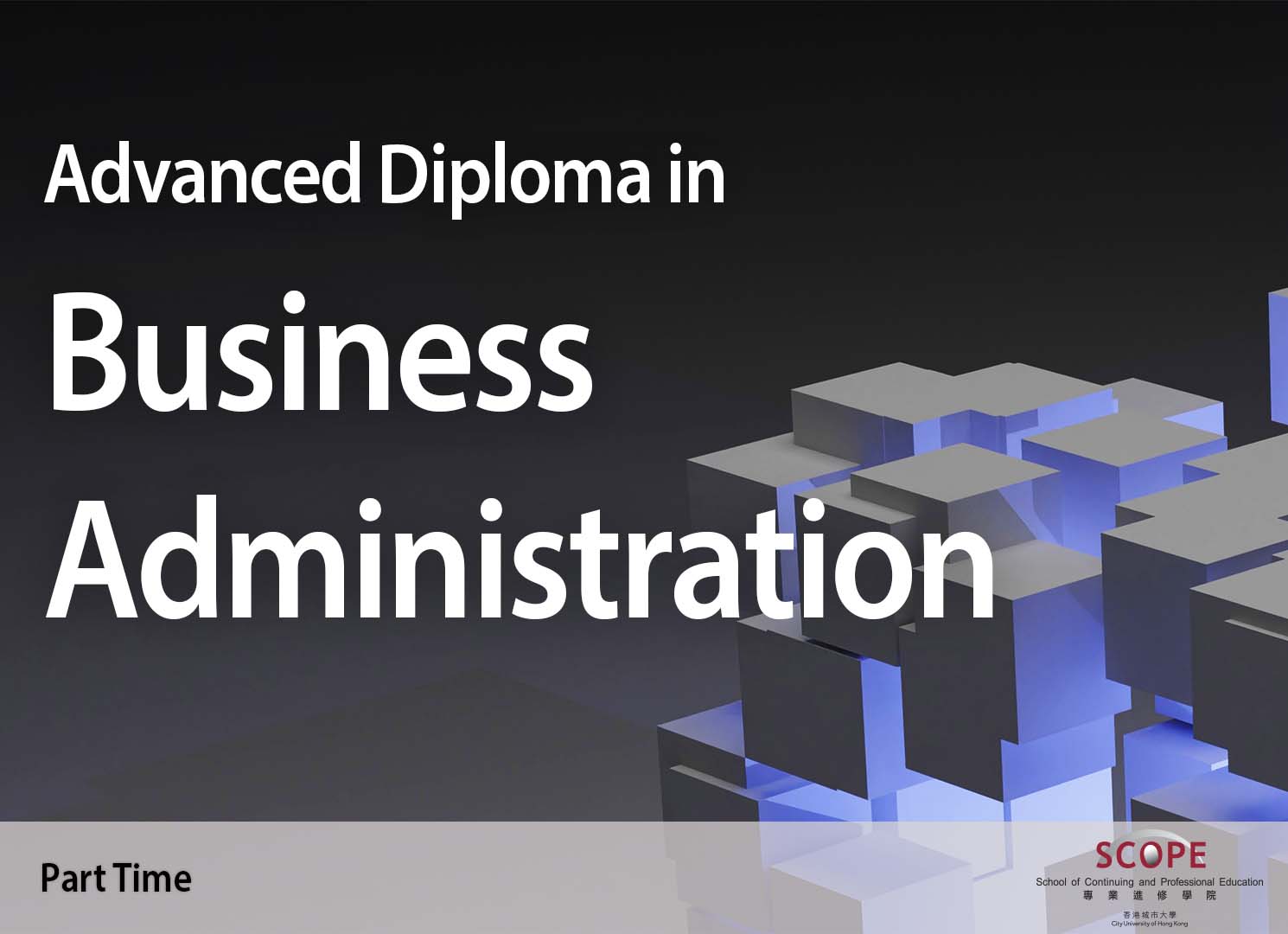 H
H
H
The Programme was formerly named as Advanced Diploma in Management Studies (ADMS)
CityU SCOPE 商業管理高等文憑 畢業生分享
Feature Story
Qualifications Framework (QF)
Advanced Diploma in Business Administration is recognized under the Qualifications Framework and has been listed in the Qualifications Register by the Hong Kong Council for Accreditation of Academic and Vocational Qualifications (HKCAAVQ).
QF Level: 4
QR Registration Number: 22/001023/L4
Validity Period: On-going since 06 December 2022
HKQR official website: www.hkqr.gov.hk
A Flexible Entry Diploma to University Degree Study
Advanced Diploma in Business Administration (ADBA) is offered by the School of Continuing and Professional Education (SCOPE) of City University of Hong Kong. The ADBA programme provides students with a solid foundation for further studies at university degree level.
Programme Aims
The ADBA programme aims to nurture and develop the talents of students and create applicable knowledge in order to support social and economic advancement. The programme enables students to understand important business management concepts and equips them with relevant business skills. Graduates will be benefited in both their workplace as well as future university degree study.
Programme Features
Good reputation with more than 16 years of successful offering in the ADMS programme
Fully recognized under the Qualifications Framework (QF) at Level 4 by the Hong Kong Council for Accreditation of Academic and Vocational Qualifications (HKCAAVQ)
Over 50% of ADMS graduates articulated to Top-up degree study successfully in past three years in Hong Kong
Flexible entry to join the programme with appropriate module exemptions granted depending on applicant's background
Fully supported with the University online learning platform and central library facilities throughout the programme