BA (Hons) Marketing, De Montfort University
BA (Hons) Marketing, De Montfort University
Programme Structure*
The BABM programme, leading to an award by De Montfort University in the UK, consists of a total of 360 credits. In Hong Kong students will articulate into this programme from a sub-degree programme and be required to study 180 credits.
Students are required either to study 8 taught modules (including two double module) and a dissertation (double module) OR 9 taught modules (including three double modules) in 3 trimesters in one year.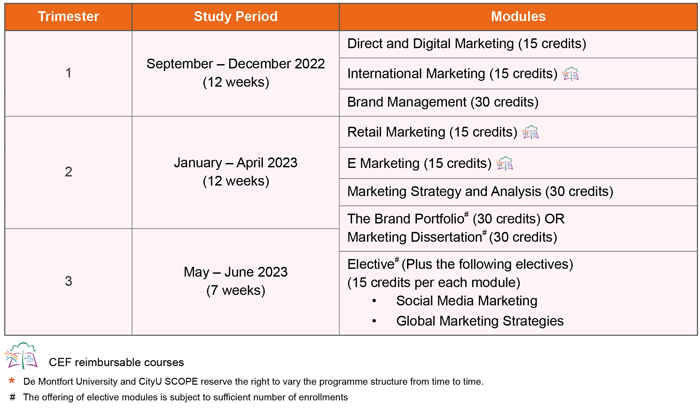 Assessment and Award
Assessment for taught modules is by coursework and/or examination. A student will be awarded a BA (Hons) Marketing, conferred by De Montfort University, upon successful completion of the programme.
Classes
Classes will normally be held at CityU SCOPE Learning Centres in Kowloon Tong, Tsim Sha Tsui East and/or other designated venues.
Student Support
Students registered in the programme will be issued a CityU SCOPE Student ID Card and a De Montfort University student card. Services provisions include access to CityU's Run Run Shaw Library, Computing Services Centre, University's e-Portal, electronic services and student LAN, as well as electronic resources provided by De Montfort University.
Further Study Opportunities
Graduates of this programme can choose to pursue further study in master degree programmes in local or overseas universities.