BSc (Hons) Aviation Management, Coventry University
BSc (Hons) Aviation Management, Coventry University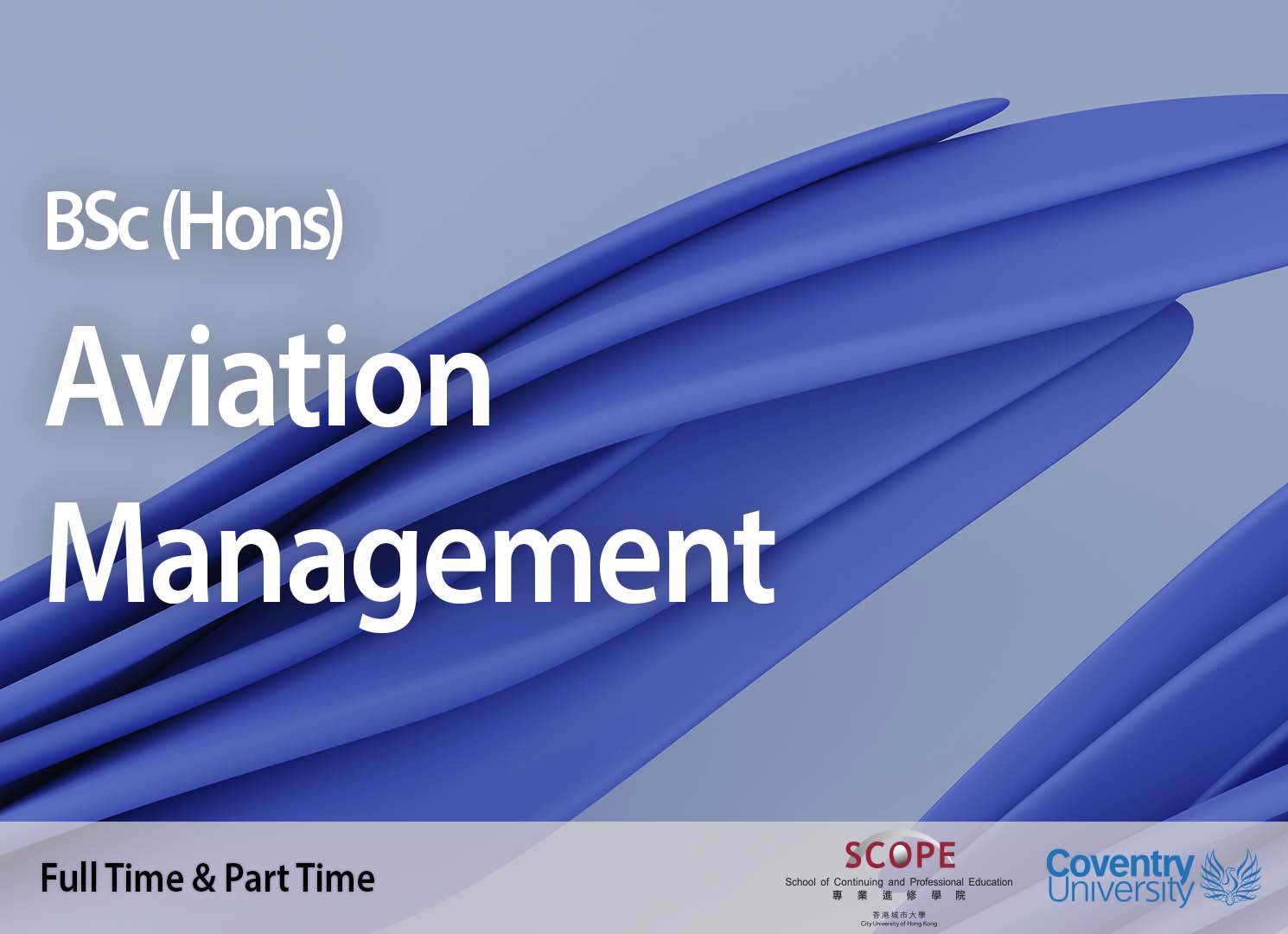 Curriculum Outline
5039MAA Airport Operations
This module conducts an in-depth analysis of the major components comprising an airport, and how each contributes to the efficient operation of the airport as a complex system. Via interaction in a group-based project, students will also have the opportunity to develop effective research, analytical and project management skills.
 
5040MAA Aviation Safety, Security and Emergency Planning
This module introduces students to the critical operational functions of safety, security and emergency planning within the aviation industry. Students will be introduced to the safety and security regulatory requirements of the industry and explore how these requirements have evolved as the industry has developed and confronted new threats. The nature and causes of accidents will be examined, as will the significance of key frameworks - such as Safety Management Systems - and the application of new technology to improve safety and security. The relevance of Human Factors in aviation safety and security will also be considered. The module concludes by examining essential procedures for managing air and ground emergencies in an airport setting.
 
5043MAA Global Logistics and MRO Management
This module considers the nature of Global Logistics and Maintenance Repair and Overhaul operations and investigates how they are managed. Drawing upon concepts of integrated logistic support, this module examines how strategic and tactical decisions of stakeholders (logistics and forwarding companies, suppliers, maintenance and engineering organisations, airlines, etc.) can be optimised to meet the current and future changing demands of the air transport industry. Students will learn how decisions are made regarding the transportation and storage of goods (including spare parts) and other logistics services, management of information and financial flows, inventory management, warehouses location. The module introduces the high-level legislation and framework that defines the responsibilities of aircraft manufacturers and maintenance organisations. Overhaul, base and line maintenance practices will be explored along with the challenges of safety management within the aircraft maintenance environment. Human factors and human error in maintenance will be integrated with the module delivery along with the use of incident and accident case studies. Students have the opportunity to conduct a maintenance task under supervision on an aircraft at the faculty workshop.
 
5044MAA Aviation Safety and Operations Assessment
This is an assessment only module which recognises the synergy and complementary nature of much of the material dealt with in modules 5039maa Airport Operations and 5040MAA Aviation Safety, Security and Emergency Planning. By means of a group assignment the module assesses students' command of the fundamentals common to both modules by applying this knowledge in a group based assignment which draws on teaching & learning from both modules.
 
6080MAA Dissertation Development
The aim of this module is to prepare the student for their dissertation module. They will need to demonstrate the ability to apply relevant academic research skills as well as those required of a professional practitioner such as problemsolving, creative and technical, whilst adhering to appropriate ethical codes of practice. The students will draw on their experience, knowledge and understanding to identify and select a relevant topic for their dissertation and develop a proposal to justify this. References must be made throughout to appropriate academic literature and successful completion will require methodical planning, record keeping, self-management as well as effective communication. Support and guidance will be provided by a project supervisor who will be the primary point of contact for a student on this module.
 
6074MAA Strategic People Management in Aviation
This module introduces learners to project management and equips them with skills, both human and technical, that will enable them to lead and work on a variety of projects. The importance of de facto project management scheduling skills, quality and estimating standards is emphasised, however, learners are encouraged from the outset to see the role of the project manager within the broader perspective of strategic business management, understanding where projects come from and why they are selected. The module also covers the use of Project Management software for creating, analysing, and monitoring projects.
 
6081MAA Aviation Strategy and Finance
Aviation Strategy and Finance is a capstone module, designed with the aim of integrating students' learning across the degree course and serves as a culminating experience on critical evaluation and development of the long-term strategic direction of aviation businesses and civil aviation policies at different institutional and organisational levels in a complex aviation industry environment. Future of the aviation industry depends on sustainable strategic and policy decisions by all stakeholders in the industry to meet the contemporary challenges facing the global aviation industry. Within this theme, the students will be introduced to advanced strategic and financial management decision analysis tools that enable them to evaluate and develop sound and financially feasible corporate, business and functional level strategies. Students will also be introduced to the principles of sustainable aviation policy development to address contemporary issues in the ever-changing aviation industry at a global, regional or national level.
 
6073MAA Aviation Management Dissertation
This module aims to provide students with an opportunity to apply and develop their research skills and to extend their knowledge, understanding and critical thinking. The student will choose an appropriate academic topic or an applied aviation industry problem and utilise their independent learning skills to research this area in-depth and provide recommendations with relevance for practitioners. The dissertation produced by students should demonstrate knowledge of the subject area selected, critical analysis of the models, concepts and theories associated with the subject selected; some evaluation of the evidence available to provide pragmatic recommendations to help solve the research problem. Successful completion of the project will require methodical planning, record keeping and selfmanagement, effective communication, execution and delivery of a final dissertation. As part of this module students are required to submit an online ethics application and to obtain ethical approval for the research project that they are proposing to undertake. Support and guidance will be provided by a project supervisor who will be the primary point of contact for a student on this module.
 
6075MAA Airline Scheduling and Operations
This module introduces students to the strategic challenges associated with managing the complex and unpredictable airline operational environment. Maintaining the network schedule lies at the heart of all airline operations management decisions, alongside ensuring that service quality standards are maintained and revenue is retained and maximised. As well as examining how airline schedules are constructed and the operation maintained, the module introduces simulation to demonstrate how planning and logic can be tested to support optimised operational decision making.
 
A301CES Effective Communication Skills 3
This module offers students the opportunity to gain knowledge, understanding and practice of a variety of effective communications skills and techniques. Students will learn how to develop and hone their personal communication skills to enhance their own performance and the performance of others. Students will have the opportunity to practise these skills in a safe, informal learning environment.
CEF CEF reimbursable course