BA and BA (Hons) Marketing with Digital Media, Edinburgh Napier University
BA / BA (Hons) Marketing with Digital Media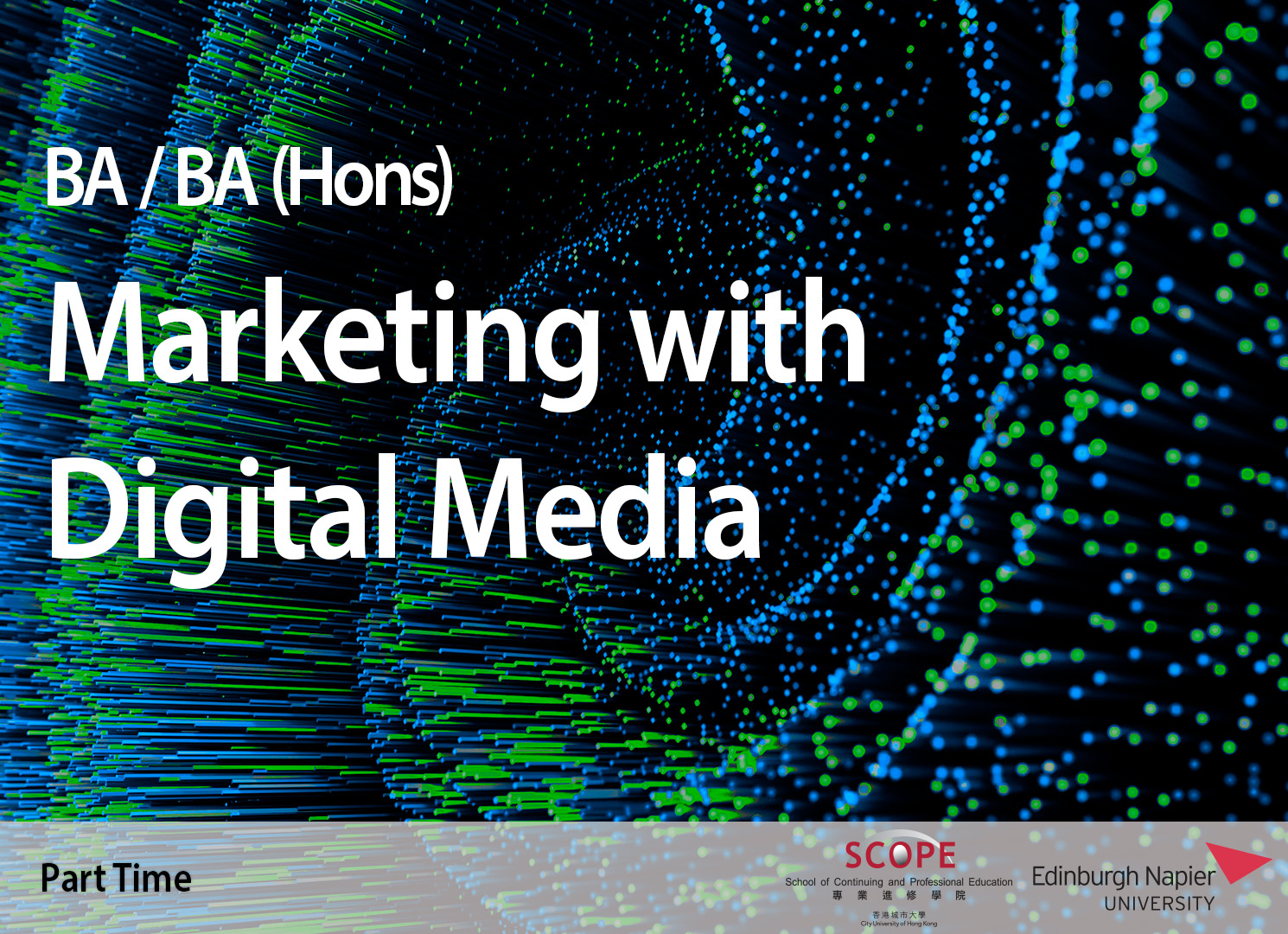 Module Descriptions
Trimester 1 Marketing Research & Communications (2)
Students will develop a critical awareness, knowledge and understanding of the theory and key concepts of marketing research and communications, their practical application across a range of marketing contexts and classical and contemporary approaches to consumption and consumer behaviour.
Trimester 1 Brand Management
This module introduces the fundamentals of strategic brand management. You will develop your knowledge and a clear understanding of brand management concepts. In undertaking this module, you will develop an ability to demonstrate understanding and application of key theories, principles and practices of brand management. Through analysis and critical evaluation of strategic brand management theory, you will be able to fully appreciate the value of brand to organisations. The key learning and associated skills you build up through participation and interaction during lecture, tutorial and independent learning will cumulate in your ability to develop strategies for the development and maintenance of brands.
Trimester 2 International Marketing
You will learn about the theory relating to the macro environment and explore the relationship between marketing in the home market and developing into international markets as a small, medium or large scale organisation. The social, cultural and trading environments are analysed and supported by international marketing research theory and concepts to help you gain a greater understanding of the differences between home and international markets. Having established a fuller understanding of the differences, you will evaluate the decision to enter international markets, followed by the development of the international marketing mix, implementation, monitoring and control and the evolving impact of technology on business development and international marketing.
Trimester 2 Direct and Digital Marketing
This module is about Direct and Digital Marketing. You will learn about database marketing and a number of electronic media: email, web-sites and the internet, social media mobile marketing and other electronic media. Direct Marketing (DM) covers DM media such as direct mail and telemarketing; also the use in DM of traditional media such as direct response advertising in newspapers and TV.
Trimester 3 Digital Storytelling
Within the context of Digital Storytelling the following topics will be covered:
Cinema, Television, Video Games, Cross-Media Production & Responsive Environments
Visual Literacy & Digital Literacy
Linear Narrative, Non-linear Narrative & Interactive Narrative
Localisation and Internationalisation
Cultural Influences with specific reference to European, North American and Asian Media
Trimester 3 Technoculture and Society
Students will develop a holistic understanding of the impact and influence of technology culture within society. Students will undertake a creative journey that connects the past, the present and the future as a means to understand the experiences and perceptions people have towards technology. Students will generate design fictions with a focus to the future and emerging technologies, using research through design approaches and design anthropology. The aim of this module will be to broaden critical thinking and to be comfortable with ambiguity as you research, ideate and innovate. Finally, students will develop a professional competence that understands the importance of influence, integrity, and responsibility to the process of design.
Trimester 4 Retail Marketing
This module will help you to develop an understanding of retail marketing theory and practice. A clear appreciation of the environment of retailing and the retail industry is the aim of this module in particular the highly dynamic and competitive arena that retailers of all types and sizes operate within. This includes non store retailing such as financial services. Module context will relate to topic areas such as consumer behaviour and retail marketing, the retail marketing mix, segmentation, retail brands, services retailing, location decisions, store image & display, on line retailing.
Trimester 4 User Experience
The module combines user experience theory and practice with reference to real world case studies and input from private and public sector organisations. It explores theories, models and context of user experience and the design and application of ethical approaches to evaluate user experience data using quantitative and qualitative methods.
Trimester 5 Digital Marketing Analytics
The module explains the fundamentals of data and digital analytics in the context of applied marketing and communications management. Areas covered include web analytics, social media analytics, and search marketing analytics, with a focus on deriving insights from digital data to make informed marketing decisions. You will get the opportunity to gain practical experience in key marketing analytics tools used in the industry, allowing you to develop not only a theoretical understanding of data-driven marketing but also gain practical skills highly valued by employers.
Trimester 5 Marketing Management in Practice
This module uses a computer based simulation to allow students to work in a simulated real marketing department where they are expected to work in teams to make marketing decisions such as designing new products, setting prices and distribution channels etc. Students are expected also to be able to utilise theoretical frameworks and models to explain their decisions and this is assessed within the individual marketing plan.
Trimesters 4 - 6 Dissertation
The dissertation module enables you to develop research skills by undertaking a well-researched piece of critical analysis on a topic relevant to your programme. You will have the opportunity to explore a chosen topic in depth, relating it to the literature and previous research studies and to integrate your findings across subject disciplines. You will be supported and guided by an individual supervisor. There will be a series of introductory lectures to explain the dissertation process. There will regular meetings between student and supervisor and a web-based learning log will be maintained. Students will plan their dissertations, read the literature, conduct the research, analyse the data collected and write up their findings.