BA and BA (Hons) Marketing with Digital Media, Edinburgh Napier University
BA / BA (Hons) Marketing with Digital Media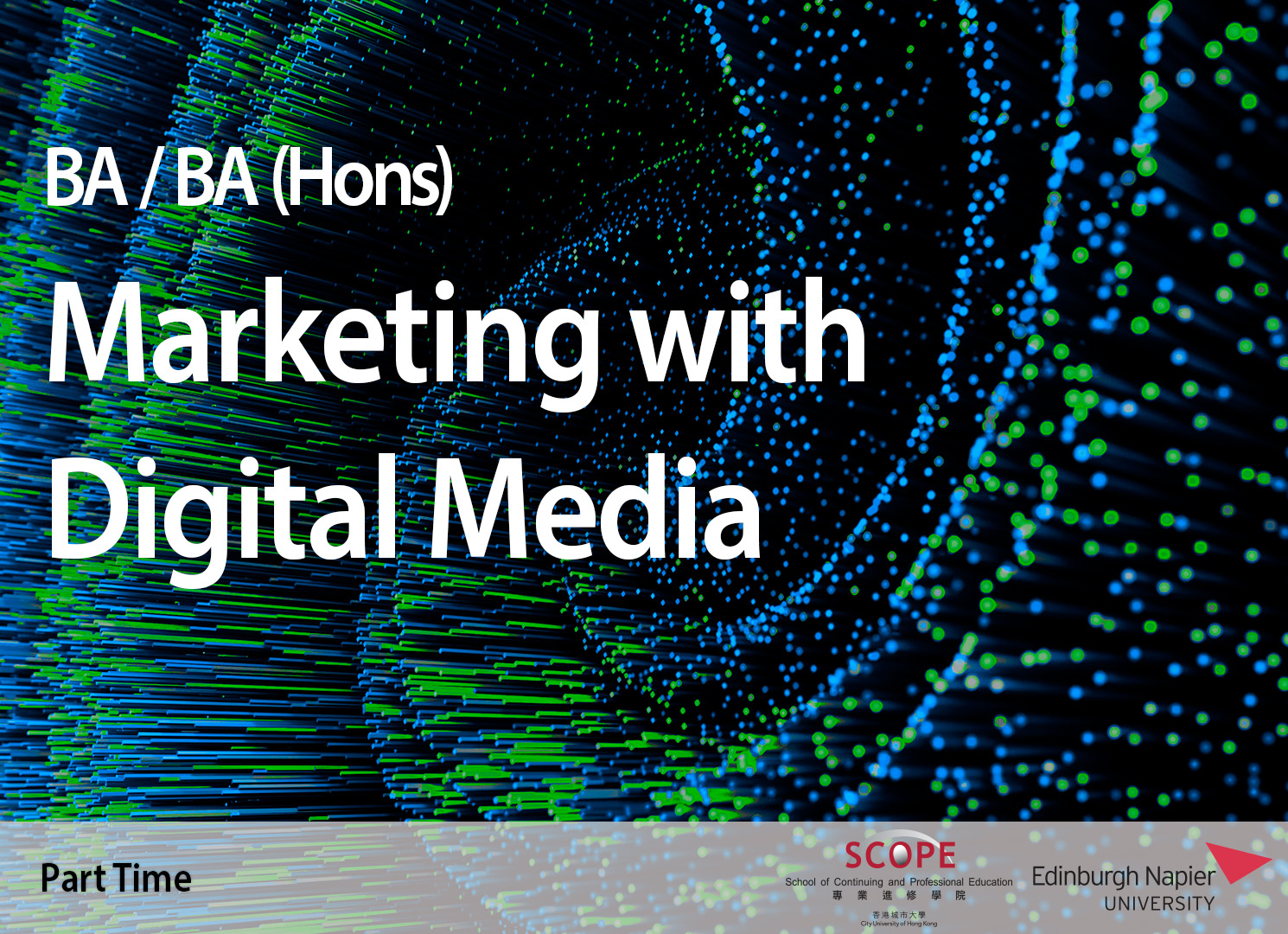 BA and BA (Hons) Marketing with Digital Media, Edinburgh Napier University
Programme Code :

233-29390

Commencement Date :

October 2023

Tuition fee :HK$139,200 [BA (Hons)] /HK$69,600 [BA]

Email :

bm@scope.edu
Programme Features
Up-To-Date Curriculum
As an emerging academic field, Marketing with Digital Media blends together theory and digital marketing practice. Students will gain an excellent understanding of both marketing principles and digital media skills including specialist areas such as user experience and digital storytelling and technoculture and society which are taught by our experienced ENU academic colleagues and SCOPE colleagues in the section of Business & Management (B & M) and the section of Science & Technology (S & T).
Bridging course for STEM graduates
Students in the STEM area and without any study of marketing fundamentals are also suitable for this programme. Students will be required to study an additional marketing bridging course (no additional fee) in the summer.
A well-designed digital marketing programme for existing marketing skills gap
Among all kinds of business talents, digital media marketing is one of the fastest growing and most popular skills. The existing skills gap is more prevalent on the digital side, particularly in the areas of below-the-line marketing, online advertising as well as community engagement experts. This new BAMDM programme will provide sub degree students and marketing practitioners with opportunities to develop and demonstrate your knowledge and understanding of marketing and digital media and to develop their practical, critical and analytical skills and attribute.
A perfect fit degree programme for STEM sub degree holder
Because of the concept of innovative knowledge and practical skills in digital media and technologies are technical in nature, the proposed degree in marketing with digital media is a perfect/ ideal fit for students with background in science, technology, engineering, and mathematics (STEM).
Overseas Study Opportunities
Travel bursaries are available for students who wish to go to the UK campus to study for a whole term so as to enrich their study experiences and learn different cultures while studying in Edinburgh.
Two Exits
Students are are allowed to opt to graduate with the ordinary bachelor's degree with 12-months duration or to complete with the Honours degree with 20-24 months duration. Both degrees are equivalent at the HKQF level 5. This flexibility is particularly important for our part-time students enrolling in this programme as they may encounter from time to time different needs for their job and other commitments.