Staff Profile
Shu Faculty Staff
---
Dr Penny J Furness
Course Leader & Senior Lecturer in Psychology (SHU)
I teach Social and Health Psychology, Qualitative Research Methods and Counselling Skills and Theory. I am the course lead for our MSc Psychology (Hong Kong) and Psychology liaison tutor for BA (Hons) Education with Psychology and Counselling. I am involved in a range of health-focused research using qualitative and mixed methods. I trained and worked as a nurse for 14 years before undertaking my PhD and starting my career in academia. Current projects and papers lie in the areas of chronic illness, health applications of virtual reality, and critical approaches to Health Psychology. I am currently undertaking a Diploma in Counselling and Psychotherapy.
Dr Sue Jamison-Powell
Deputy Course Leader & Lecturer in Psychology (SHU)
During my studies I actually became more interested in the social psychological applications of technology and began to specialise in online communication. My undergraduate dissertation examined the use of memetic devices in online communities as a form of affiliative behaviour.
I completed my PhD at Sheffield Hallam in 2011 in which I examined the effect of technology such as Facebook on the way that we manage our social relationships. From Sheffield Hallam I worked at the Lincoln Social Computer Research Centre (LiSC), with whom I maintain strong collaborative links. My initial work with LiSC made use of behaviour associated with online social network sites applied to sleep therapy, and I have recently collaborated with colleagues in LiSC to look at the way social technology is used in the end of life process.I have been teaching at Sheffield Hallam in some capacity since 2007, and took up a permanent lectureship in Psychology in September 2014.
Teaching Staff
---
Dr Javier Aguado-Orea
Senior Lecturer in Psychology (SHU)
My main area of expertise is the study of early child language. I have published outputs in academic journals from the cognitive psychology field (e.g., Cognitive Science), from a more linguistic-oriented field, and from a developmental psychology (learning processes) audience and a more education-oriented one. I have applied naturalistic speech analyses (by using the CHILDES system and computational simulations) and experimental procedures (the intermodal preferential looking design, grammaticality judgements and speech elicitation techniques) to the study of first language acquisition in English and Spanish.
Anna is part of the teaching team for several modules, mainly in the fields of Biological and Cognitive Psychology. She is also module leader for Cognitive Psychology, Biopsychology and Developmental Disorders of Reading and Language.
Dr Martin Thirkettle
Co-module Lead for Cognitive Psychobiology (SHU)
As a lecturer, I split my time between teaching and research. I teach on a number of cognitive psychology and research methods modules. My research focuses on cognitive behavioural neuroscience and, broadly, my research interests lie in the way visual information is perceived and then used in cognitive mechanisms to produce behaviour.
CityU SCOPE Faculty Staff
---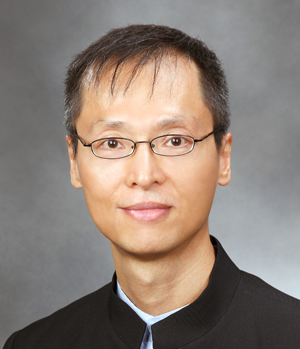 Dr Roger Kwan
Lecturer (SCOPE)