Professional Diploma in Property Management +
Professional Diploma in Property Management


Professional Diploma in Property Management +
Information
Programme Code: 233-40181
Commencement Date: September 2023
Application Deadline: 30 June 2023
Programme fee: HK$34,800
Enquiry: 3442 2195 / 3442 6358 / 3442 7423
Email: pdpm@scope.edu
H
H
H
Hong Kong is one of the most densely populated cities in the world.  The management of premises plays an important role on maintaining the quality of living for residents and the value of equity invested. Property management, undoubtedly, are indispensably in managing a premise.  The industry is expanding and the demand for a professional possessing the knowledge of property management would be increasingly high.
Supported by the Hong Kong Association of Property Management Companies, SCOPE has been offering Continuing Education Diploma in Property Management (CEDPM) for over 10 years. This programme is designed specifically for those working or wishing to pursue career in property / facility management industry.  Till now, there are more than 900 students graduated from this programme.  In 2012, the programme has been revamped, which enables graduates advance their study. To comply with new Award Title Scheme (ATS) under Qualifications Framework, this programme has been retitled as "Professional Diploma in Property Management (PDPM)".
Programme Objectives
The programme aims to equip students with the required technical knowledge, analytical abilities and management techniques for being a professional in the property management industry, and to provide students with general business and communication skills which facilitate them for career development and enable them to plan for further studies.
Upon completion of the programme, students should be able to:
demonstrate their understanding of the basic knowledge, personal attributes and competencies that will be required to develop a career in the property management;
apply subject practical skills to develop student's practical skills of the way facility, estate and property management companies operate;
possess intellectual skills to apply a professional approach to meeting the corporate and client needs of this industry sector and also to inspire them for further studies in facility and property management.
Programme Overview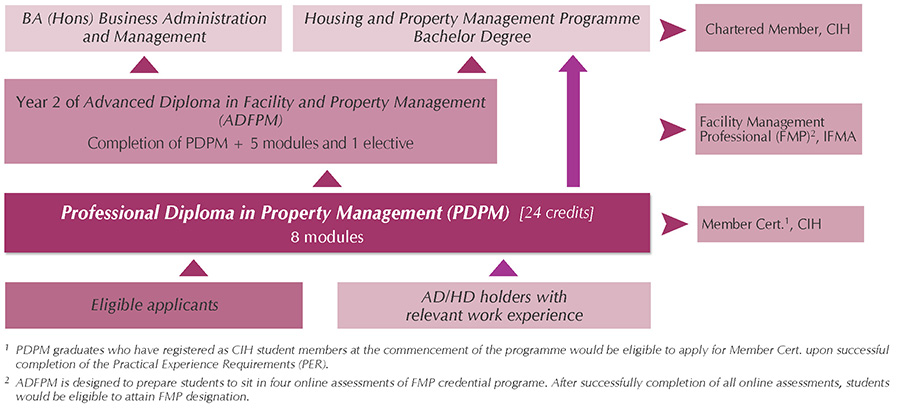 Qualifications Framework 
Professional Diploma in Property Management is recognized under the Qualifications Framework and has been listed in the Qualifications Register by the Hong Kong Council for Accreditation of Academic and Vocational Qualifications (HKCAAVQ).
QF Level: Level 4
QR Registration No.: 13/000192/L4
Validity Period: Ongoing since 18 April 2013
HKQR official website: www.hkqr.gov.hk
Relevant Programmes