BA and BA (Hons) Marketing Management, Edinburgh Napier University
BA/BA (Hons) Marketing Management, Edinburgh Napier University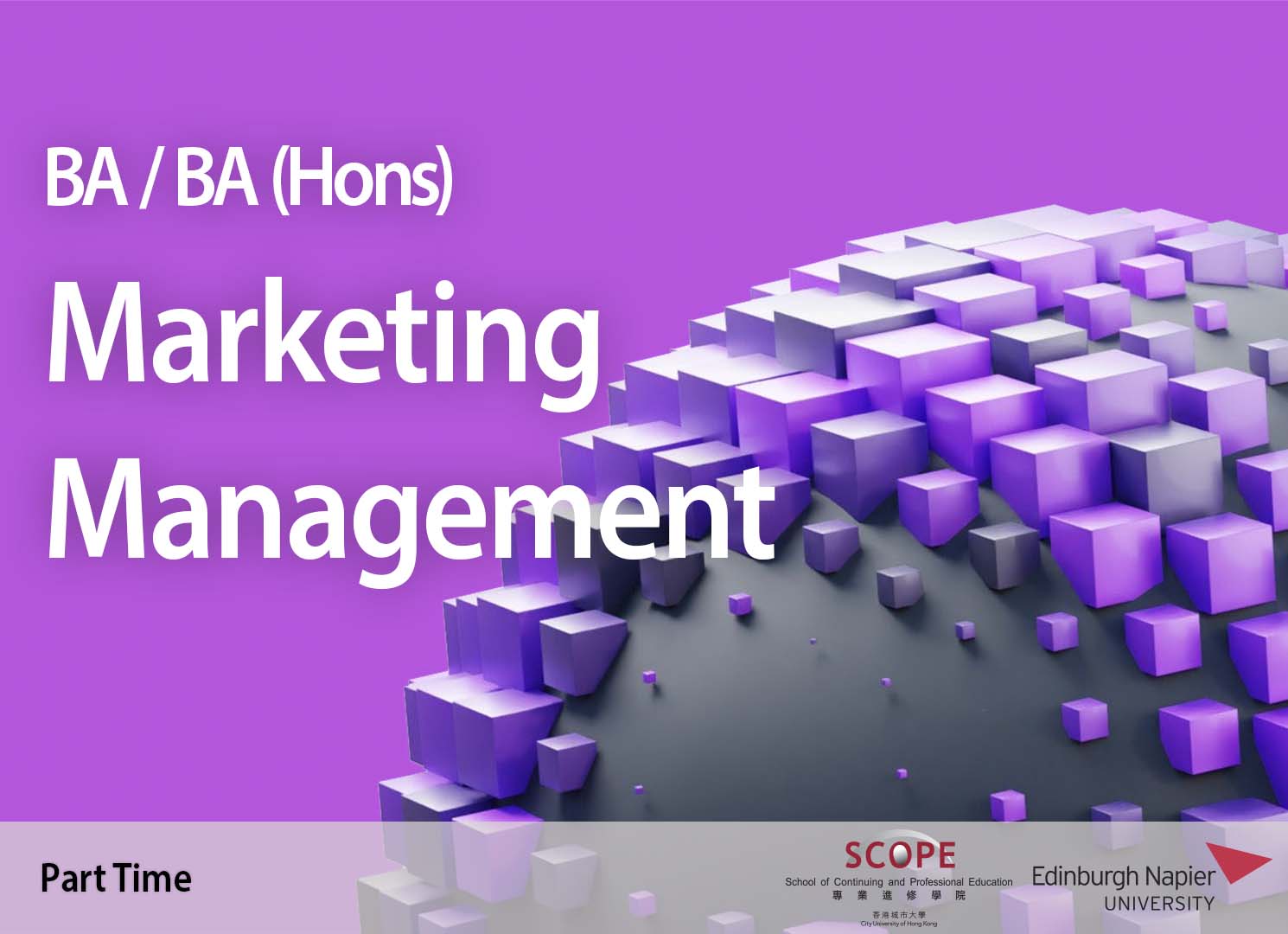 BA and BA (Hons) Marketing Management, Edinburgh Napier University
ENU March 2019 Graduation - Valedictorian speech
H
H
H
Edinburgh Napier University
Edinburgh Napier University is one of CityU SCOPE's largest UK partners of Higher Education in Hong Kong. Edinburgh Napier delivers the skills and experience that matter. It combines professional know-how with an academic approach and work-related learning to help its students succeed beyond university. Meanwhile, its research approach shapes the world around us, improving lives in Scotland and across the globe.
Edinburgh Napier is one of the largest universities in Scotland, with almost 20,000 students. It is split into six Schools: The Business School, School of Arts & Creative Industries; School of Computing; School of Engineering & the Built Environment; School of Applied Sciences; and School of Health & Social Care. The University has approximately 1,500 staff and offers around 300 undergraduate and postgraduate programmes, as well as an extensive range of short courses for industry and commerce. Many of its short courses have been tailored to fit international clients' needs and are delivered abroad.
The Business School
The Business School is one of the largest and modern Business Schools in Scotland with more than 8,500 students. It offers a wide range of Business, Finance, Hospitality and Tourism courses at undergraduate and postgraduate levels.
The Business School has been working with SCOPE at City University of Hong Kong since 1997, providing learning opportunities for students in Hong Kong to articulate from their associate degree and diploma programmes onto a number of our honours degree and degree programmes.
The School is the home to four subject groups, namely: Management; Accounting, Finance & Law; and Tourism & Languages and Marketing. The Marketing subject group offers the Marketing undergraduate and postgraduate degrees in the UK and Hong Kong. Our degrees focus on Marketing Management at both the strategic and tactical levels.
Edinburgh Napier University Scholorship
Scholarships are offered to students on this programme, with outstanding prior academic achievements. An award is also offered to an Honours student with outstanding performance in the programme.
Overseas Study Opportunity
In Trimester 2 students on this programme will have a valuable opportunity to study in the UK campus of Edinburgh Napier University for a whole trimester. Bursaries may be available for eligible students.
Summer International Festivals in Edinburgh
Students will have an opportunity to visit to Scotland in the summer for two weeks. They will have the opportunity to learn about Scottish culture and participate in the Edinburgh International Festival. Bursaries may be available for eligible students.
Outstanding Reputation
Edinburgh Napier University's recent achievements include:
Top 10 rankings:
#1 Modern University in Scotland - The Times & Sunday Times Good University Guide 2021 and 2022
9th Modern UK University for Business, Management & Marketing - The Times & Sunday Times Good University Guide 2022
10th Modern UK University for Accounting & Finance - The Times & Sunday Times Good University 2022
#1 university for Student Satisfaction in Edinburgh for the second consecutive year -National Student Survey 2020 and 2021
The Business School scored 87% for overall satisfaction - National Student Survey 2020
According to 2021 National Student Satisfaction Survey which measures satisfaction across universities in the UK:
#1 University in Edunburgh (for the 2nd consecutive year in 2020 and 2021)
#2 Modern University in the UK
#6 Overall in Scotland
It is the largest UK provider of higher education in Hong Kong, with more than 3,000 students studying there.
It is internationally recognised: in the recent QS Stars international university rankings, the quality of its teaching, internationalisation and employability were all officially recognised, with the University scoring five stars in each category.
Edinburgh Napier has been offering Marketing programmes in HK since 2000. The graduates of our Marketing programmes will shortly reach around 2,500.
QF Level: 5
QR registration no. 12/000154/5 [BA]/ 12/000153/5 [BA (Hons)]
Validity Period: 1 Sep 2012 to 31 Aug 2025
BA/BA (Hons) Marketing Management are exempted programmes under the Non-local Higher and Professional Education (Regulation) Ordinance (Ref. nos.: 452008 [BA (Hons)] & 452009 [BA]). It is a matter of discretion for individual employers to recognise any qualification to which this programme may lead.