BA (Hons) Accounting, Edinburgh Napier University
BA (Hons) Accounting, Edinburgh Napier University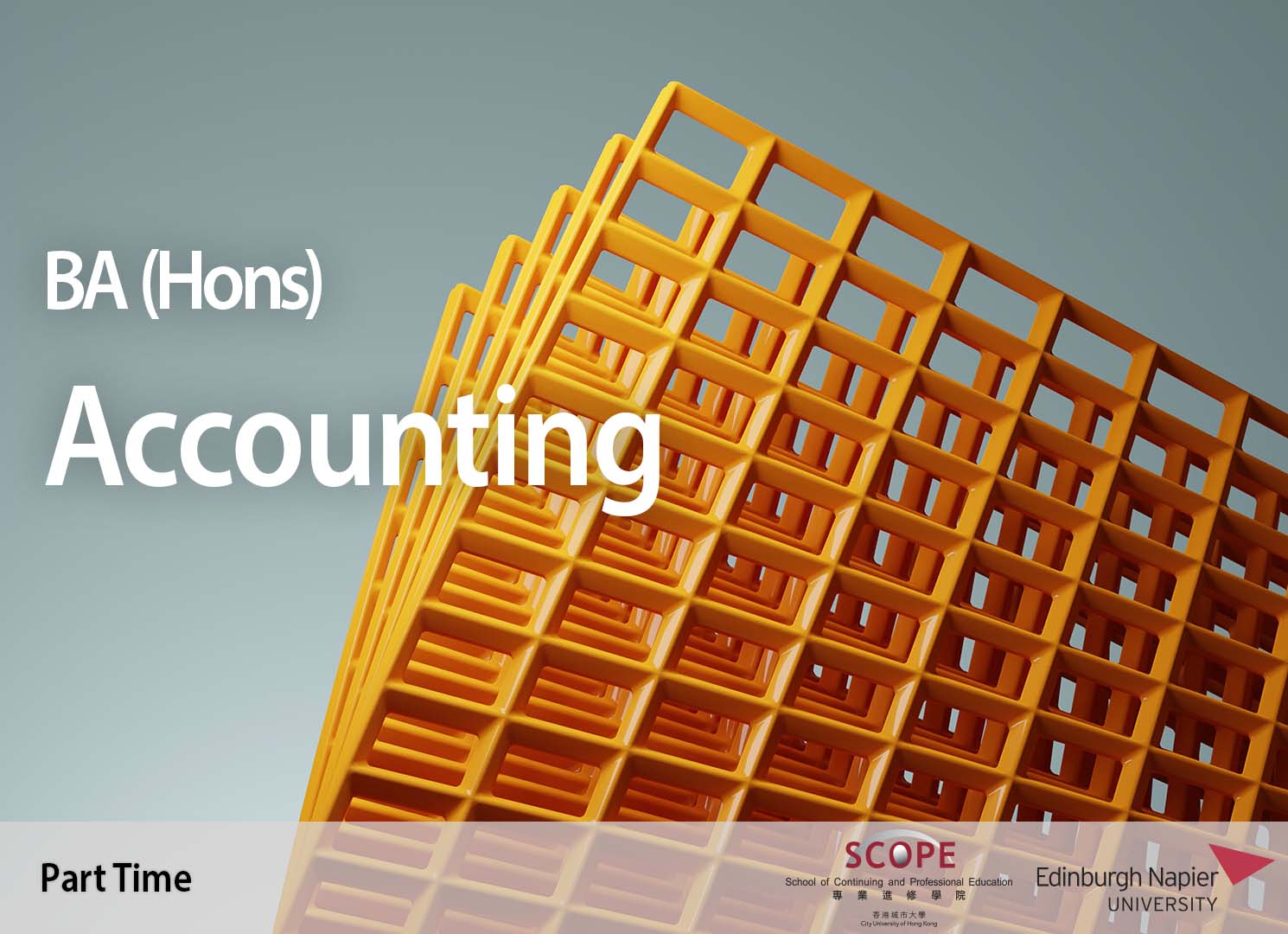 BA (Hons) Accounting, Edinburgh Napier University
CityU SCOPE Awardee sharing of SPSS Outstanding Performance Scholarships
CityU SCOPE 會計榮譽文學士 課程統籌分享 2015
CityU SCOPE 會計榮譽文學士 2016畢業生分享
BA (Hons) Accounting Graduate Sharing
BA (Hons) Accounting Graduate Sharing
BA (Hons) Accounting Graduate Sharing
CityU SCOPE 會計榮譽文學士 畢業生分享
CityU SCOPE 會計榮譽文學士 2016畢業生分享
CityU SCOPE 會計榮譽文學士 2016畢業生分享
Programme Qualification
HKCAAVQ Accreditation
The BA (Hons) Accounting programme has been accredited by Hong Kong Council for Accreditation of Academic and Vocational Qualifications (HKCAAVQ) as locally accredited top-up degree programmes to attain HKQF Level 5, which is equivalent to the standing of bachelor's degrees offered by local universities in Hong Kong.
Professional Recognition
Hong Kong Institute of Certified Public Accountants (HKICPA)
This is an accredited accountancy degree programme under the Hong Kong Institute of Certified Public Accountants (HKICPA). Graduates of this programme who have met the HKICPA student registration requirements will be eligible for exemption of the 10 Associate Modules under the Institute's Qualification Programme.


Association of Chartered Certified Accountants (ACCA)
This programme is accredited by ACCA for a period of 5 years for graduates from 01/01/2019 to 31/12/2023. Students can obtain exemptions of 7 papers on completion of the programme.
There are four past graduates earning awards of Top score in Financial Reporting (Joint) and Top Affiliates for the ACCA examination in 2019, 2020 and 2021 .

Scholarships
Edinburgh Napier University Scholarship
Scholarships are offered to students in this programme, with outstanding prior academic achievements. An award is also offered to an Honours student with outstanding performance in the programme.