BA (Hons) Accounting, Edinburgh Napier University
BA (Hons) Accounting, Edinburgh Napier University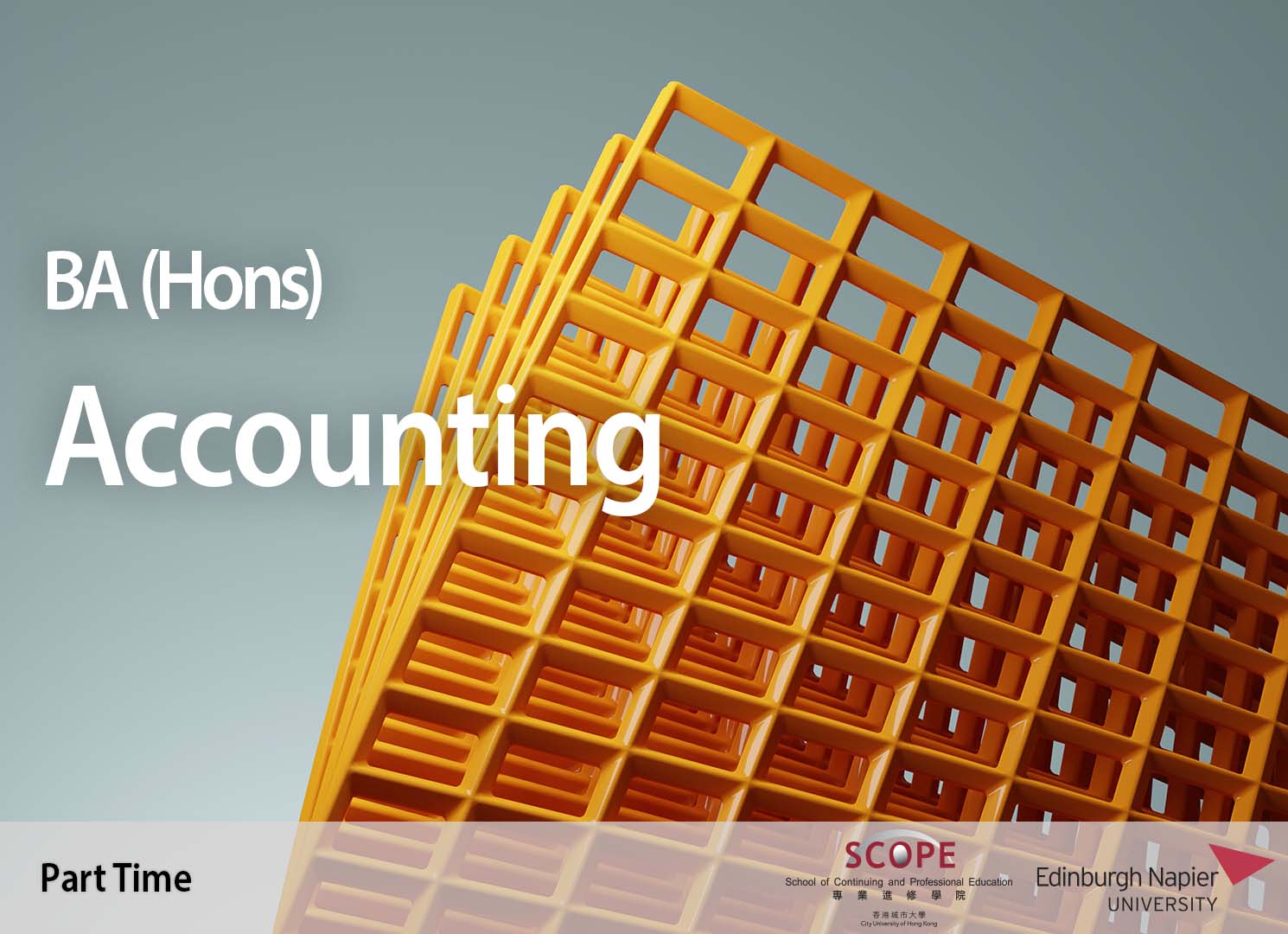 BA (Hons) Accounting, Edinburgh Napier University
CityU SCOPE Awardee sharing of SPSS Outstanding Performance Scholarships
CityU SCOPE 會計榮譽文學士 課程統籌分享 2015
CityU SCOPE 會計榮譽文學士 2016畢業生分享
BA (Hons) Accounting Graduate Sharing
BA (Hons) Accounting Graduate Sharing
BA (Hons) Accounting Graduate Sharing
CityU SCOPE 會計榮譽文學士 畢業生分享
CityU SCOPE 會計榮譽文學士 2016畢業生分享
CityU SCOPE 會計榮譽文學士 2016畢業生分享
Programme Structure
Programme Aims
Provide a flexible degree programme for students who wish to develop knowledge and skills in accountancy that are required for careers in public and private sector organisations;
Promote the development of the intellectual potential of students by means of a logical, analytical and critical approach to academic study;
Develop transferable skills that will be useful in career development; and
Provide an accounting programme that has been accredited by the HKICPA.
Programme Features
Professional Recognition
The 1st accredited overseas degree programme of HKICPA
Under the Institute's new QP, graduates of our programme, upon registering with the HKICPA, will be entitled to block exemption of all 10 Associate Level Modules and they can proceed directly to the Professional Level and Capstone Level.
Strong Reputation and Long History
The programme has been offered in Hong Kong since 1997 with more than 4,500 graduates, and has established a strong local reputation in the market for quality and relevance
Academically Sound and Highly Practical
The curriculum is practically designed to meet the needs of the accounting profession
Lectures are delivered by lecturers of Edinburgh Napier University and CityU, with tutorials led by CityU full-time academics and local practitioners.
Strong Student Support
Students are provided with detailed module guides for ease of study
Students enjoy specific facilities provided by both Edinburgh Napier University and City University of Hong Kong
Several scholarships are available for students
Programme Structure#
The BA (Hons) Accounting programme consists of a total of 480 credit. In Hong Kong, students will articulate into this programme from the relevant accounting related sub-degree programmes and be required to study 260 credits. It consists of 13 modules, including one level 8 module, eight level 9 modules and four level 10 modules, one of which is a dissertation and is a double-credit module.
Part-time programme
Year/Trimester
Soft Skills for Accountnats
Module
Level
Credit
1/1

Advanced Management Accounting
Corporate Financial Management
Corporate Accounting

1/2

Advanced Corporate Reporting
Auditing

1/3

Hong Kong Law
Hong Kong Taxation

2/4

Corporate Strategy
Information Systems for Business & Accounting
Innovations in Management Accounting

2/5

Current Issues in Finance
Dissertation (including Research Method)

2/6

Corporate Social Responsibility
Dissertation (cont'd)
These courses have been included in the list of reimbursable courses for Continuing Education Fund purposes. The mother programme [BA (Hons) Accounting] of these courses is recognised under the Qualifications Framework (QF Level 5).
Programme Delivery
Lectures will be delivered by academic staff from Edinburgh Napier University and CityU, with tutorials supported by academic staff from CityU SCOPE and local practitioners.
Accelerated Mode of Study
This BAAC programme is taught in part-time accelerated mode of study with an additional module being studied in the first trimester.
Classes
Students are required to take two to three modules in a trimester. The lectures and tutorials will normally be run in an intensive mode during weekends and weekday evenings.
Assessment and Final Awards
For each of the main modules, the programme is normally assessed on a weighting of coursework and examinations. A student will be awarded the BA (Hons) Accounting conferred by Edinburgh Napier University when he/she has successfully completed the programme in accordance with the programme requirements.
Commencement
September 2023