BA (Hons) Business Management, De Montfort University
BA (Hons) Business Management, De Montfort University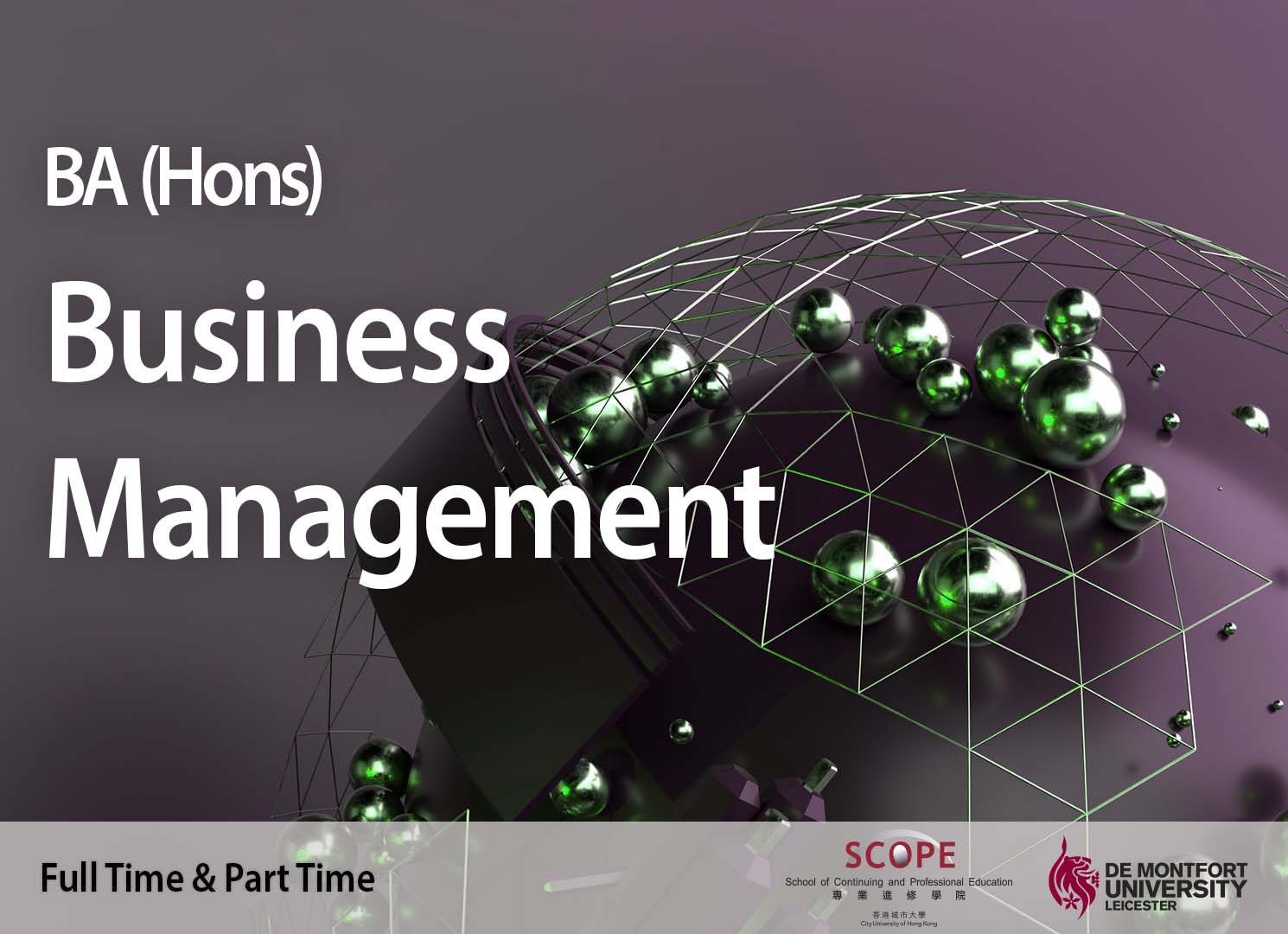 Programme Features 課程特色
About the Programme
The programme provides students with a wide range of applied skills and knowledge in Business Management. Students are encouraged to examine real-life business issues in an analytical context in Hong Kong as well as the wider global community. They are given a broad range of assessments to practise and develop their growing confidence, knowledge and practical abilities to enhance their employability prospects in their desired field.

在港已開辦26年。課程已獲取資歷架構第五級。學術性及實用性並重。全日制只需八個月(兩學期),兼讀制則需二十個月(五學期)完成。本課程教授廣泛的商業管理專業知識,鼓勵學生結合商業實例和個案,進行分析;並以不同的評核方式增強學生的專業信心及實踐能力,提升他們在就業市場上的優勢與競爭力。合資格學生可申請政府資助,英國德蒙福特大學亦設獎學金予成績優異學員。
Programme Features
Strong Reputation and Long History
The programme has been offered in Hong Kong since 1997 with more than 4,550 graduates, and has established a strong local reputation in the market for quality and relevance.
Academically Sound and Highly Practical
The programme is specifically designed to give a balanced mix in human, technical and cognitive knowledge required for a successful management career in today's competitive global environment.
Specialist Progression
Progression to the Master's programmes, offered by local / overseas universities.
HKCAAVQ Accreditation
1) This programme is:
accredited by the Hong Kong Council for Accreditation of Academic and Vocational Qualifications (HKCAAVQ) to reach HKQF Level 5 (QR registration no. 21/000256/L5; Validity Period: 30/08/2021 to 31/08/2025);
equivalent to the standing of bachelor's degrees offered by local universities in Hong Kong; and
recognised by the Hong Kong Government for employment purposes within the Civil Service.
2) Students studying full-time may apply for the government scholarship, grant and loans.
Scholarships
The Government Scholarships offers Scholarships to Full-time students.
Programme Delivery
The teaching of the programme is conducted by local academics and practitioners. The programme is administered by the School of Continuing and Professional Education, City University of Hong Kong (CityU SCOPE). De Montfort University closely monitors the progress and quality of the programme. De Montfort staff and the External Examiners visit the programme regularly throughout the year.