BA (Hons) Public Administration and Management, De Montfort University
BA (Hons) Public Administration and Management, De Montfort University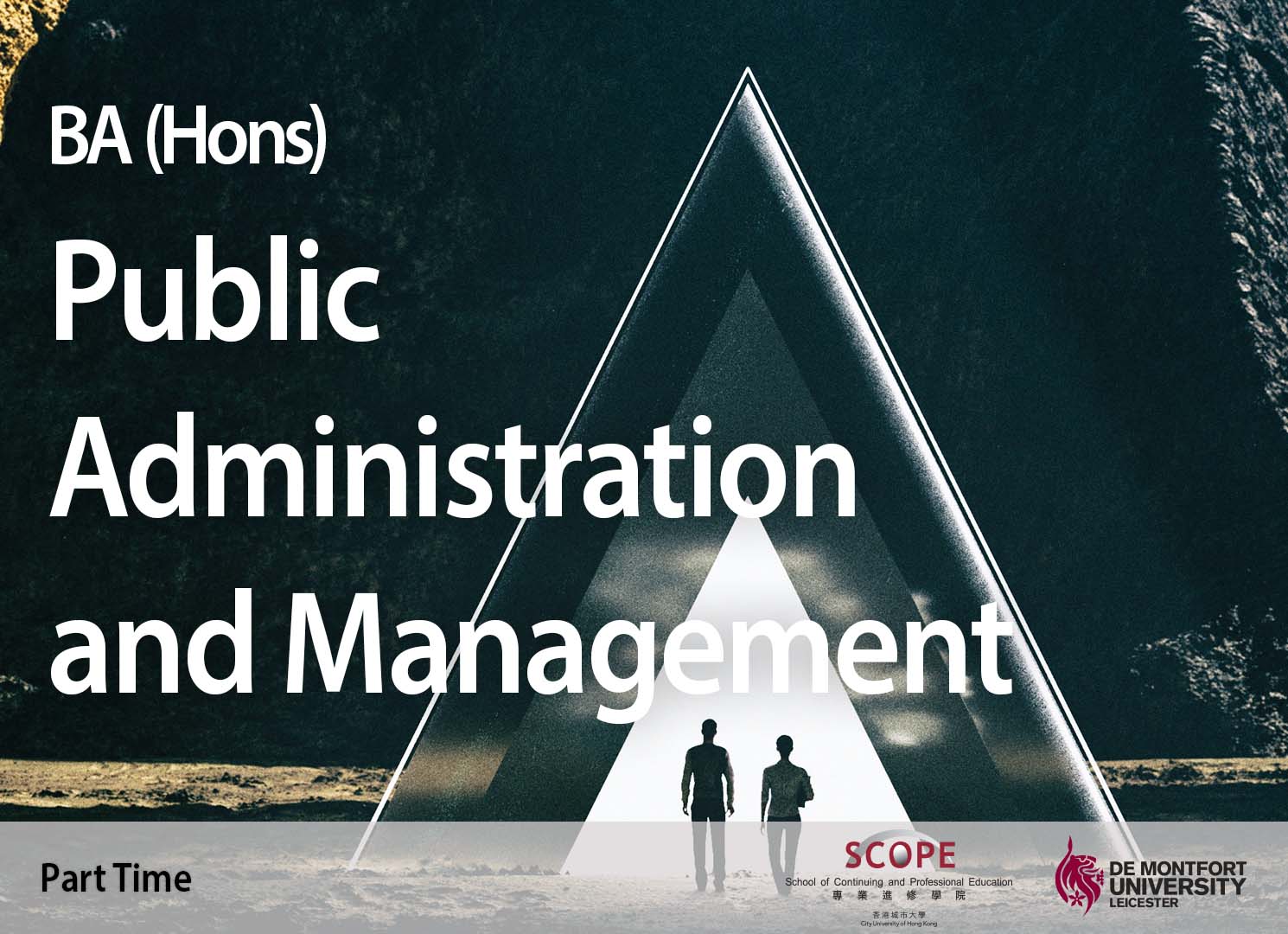 Programme Information
Programme Features
Accredited by the Hong Kong Council for Accreditation of Academic and Vocational Qualifications (HKCAAVQ) to reach HKQF Level 5.
A well-established top up degree in public administration and management in Hong Kong with 28 years of history and excellent reputation.
Housing Specialisation meets the academic requirement of Chartered Membership of Chartered Institute of Housing.
Housing Specialisation is an specified Academic Qualification for PMP (Tier 1) Licence by the PMSA.

De Montfort University Scholarships are offered to outstanding students achieving good performance in the programme.
Teaching and Learning
BAPAM students will be inspired by our experienced teachers who are intellectual mentors teaching and guiding them along the study journey. Classes will be held at CityU SCOPE Learning Centres in Kowloon Tong, Tsim Sha Tsui and/ or other designated venues.

Professional Recognition
Chartered Institute of Housing (CIH)
Successful completion of the Housing Specialisation and the Practical Experience Requirement (PER) allows you to become a Chartered Member of the Chartered Institute of Housing.
Hong Kong College of Health Service Executives (HKCHSE)
Students of PAMG3406 "Health Strategy and Management" are eligible to apply for the membership of Associate of HKCHSE.
Hong Kong College of Community Health Practitioners (HKCCHP)
Students of PAMG3406 "Health Strategy and Management" are eligible to apply for Student Membership of HKCCHP.
Assessment and Award
Assessment for the taught modules is by coursework and examination. A student will be recommended for the award of BA (Hons) Public Administration and Management conferred by De Montfort University upon successful completion of the programme in accordance with the programme requirements.
Careers and Further Study Opportunities
The programme prepares you for management positions in both public and private sectors. Graduates find careers in public administration, social services, education or housing. You can also start your career in the political field as a Political Assistant. After graduation, you are eligible to apply for Master's degree in both local and overseas universities.